07.07.23
How Nigeria's Black Soot environmental hazard inspired my career in CleanTech
Sharon Oahimijie, Junior Project Manager at Bramble Energy, discusses the inspiration behind her route into CleanTech and offers advice for budding engineers on how to uncover passion points in industry.
My story
Growing up in Southern Nigeria's Rivers State – an area affected by air pollutants – I vividly recall the devastating impact black soot had on my community.
The thick blanket of dust would cover everything, our homes, cars, clothes and skin. Both the flora and fauna within my community suffered associated health complications. As a young child, I recall struggling to breathe when the pollution was quite severe. Many family members and friends suffered from the severe respiratory problems, including asthma, bronchitis, and lung cancer, and even premature death were linked to the locally referred black soot.
Experiencing this environmental crisis first-hand was what inspired me to pursue a career in CleanTech. I was determined to turn the black soot from a source of fear and frustration into a passion by working in a sector focused on finding innovative solutions to environmental problems. For other budding engineers seeking inspiration, black soot is just one of a multitude of environmental concerns spanning the world. For those looking, there is inspiration everywhere.
Although my career choice was not wholly decided by the black soot menace, it did play a pivotal role. Being a woman in engineering was an equally formative pillar in my desire to build a career in the sector. I wanted to be part of the change that influences females to join the engineering industry. I am driven by challenges and the need to make myself, gender and family proud was always a push for me.
Growing up, I was expected to follow a career in law or medicine – particularly being the first-born of my siblings. Stepping away from that was daunting, but I'm happy I followed my own passion, and I was thankful to have the support of my parents. I took the plunge to move to the UK and began studying Chemical Engineering; a field that addresses most environmental problems by developing new materials from sustainable sources.
Engineering offers the opportunity to be part of cutting-edge innovation, solve complex challenges, work on a diverse range of projects, make a positive impact on the world, and collaborate with other talented professionals.
Despite equality and diversity being a priority at my university's School of Engineering, there was a visible difference in numbers of males to females. Although numbers were up from the previous academic year, I found it difficult to give up the need to prove myself to my male peers – but I believe it is such an important journey to find your passion in the industry, and have that passion drive you, rather than competing with your male counterpart.The best advice I could possibly offer women in a similar position is to seek a good support system, whether that's youth-led industry networking groups, community-led environmental groups, or even social platforms and resources to follow inspirational female voices within the sector.
I was opportune to have a multi-ethnic and diverse group of friends who also studied Chemical Engineering; they were such an inspirational, intelligent and supportive group of people, always there to help and offer advice when needed. I was also really inspired by the talks run by Warwick Women in Engineering & Science (WWES), a society founded to help champion women in engineering, and HER STEM STORY, a weekly Spotify podcast covering the extraordinary stories of real women in STEM.
With the right support from my peers, lecturers and inspirational voices mentioned above, I was able to graduate with a First Class Honours degree. Since then, I have now kicked off my career as a Junior Project Manager at Bramble Energy, a hydrogen fuel cell and clean tech company. My engineering knowledge and background has been invaluable for this role. In fact, I've found that studying Chemical Engineering really paves way for a variety of career paths, so you don't necessarily have to get involved in the actual technical or engineering work – if that's not what interests you.
One of the most enjoyable aspects of my job is that I can work with various engineering departments – from Systems and Stack, to Virtual and Control – allowing me to be exposed to many different aspects of the sector at a high level. Day-to-day, I manage zero-emission grant-funded projects and support in-bid writing, while also presenting project outcomes and carrying out quarterly meeting reviews with monitoring officers covering project progress. I am currently managing two Clean Maritime Demonstration Competition Round 2 projects. This type of work has helped me learn numerous soft skills, including building resilience, communicating and managing people effectively; all of which will stand me in good stead in the future.
In thinking of the future, there are exciting times ahead, both individually for me as a professional, and for the industry, as many companies attempt to keep up with 2030 Net Zero targets. For me, engineering is unique in that it offers the opportunity to be part of cutting-edge innovation, solve complex challenges, work on a diverse range of projects, make a positive impact on the world, and collaborate with other talented professionals.
My advice
My advice for women thinking of pursuing a career in engineering, would be to simply go for it. The sense of accomplishment that comes with achieving your goals is worth every minute of work. I am so proud to be a part of the movement towards sustainable energy and environmental practices that will help ensure a cleaner and safer future for generations to come. And I hope to inspire others to follow suit, regardless of gender, ethnicity or cultural background.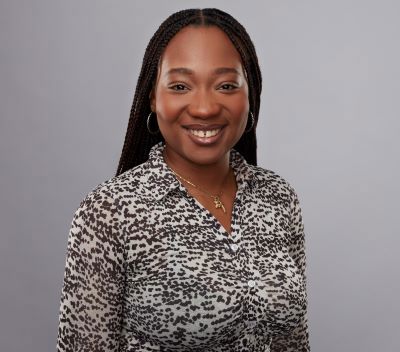 Sharon Oahimijie, Junior Project Manager at Bramble Energy